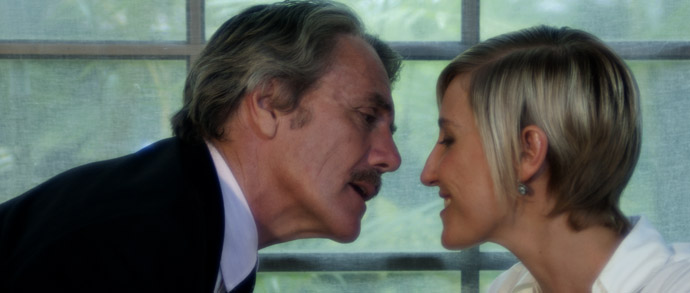 CLIVE (Robert Coleby) sits alone at a table in the garden area of a classic English Tea Room. The place is moderately busy. We see a WOMAN walk behind him and gently touch his shoulder. The proud mans eyes light up, his expression softens as she sits opposite him. We cut to her, it's Jennifer Brown. She places her HANDBAG on the chair beside her.
Bad Behaviour
One Sheet Character Poster :
Georgina Symes is Jennifer Brown.
Bad Behaviour
\Australian Cinema \Character Concept Art \ Explotation \ Black Comedy \ Neo Noir \ Actor
Artists Description and general comments.
Client : MEDiAKiN / Sterling Cinema Pty Ltd / Global Alliance Productions / Caldwell Entertainment
Brief : Read script, on-set observations, utilise on set photographer.
Medium : Digital : One of several Bad Behaviour Character posters created in Adobe Photoshop 2012 a.d
Design Notes : Featuring Georgina Symes as the Bitchy high school teacher Jennifer Brown, wife to the character of policeman Mark Brown and mother to Candice. In pre-blockbuster/DVD days, the horror section of the local video store was a sacred and profane place— a vast undiscovered treasure trove of gritty illicit images. Today, as most people order their dvds from Amazon based on movies they've already seen or heard of, or worse yet, they `flix everything they watch, DVD cover art is a pretty sanitized business. Actors you recognize, a scene from the film, the promo poster you've seen a thousand times (with a lot of dodgy photoshop edits and airbrushes screaming at you). Mid-80's VHS cover art was different, especially in the horror aisles. Intense color and extreme graphics were the only ways to give your film a chance to be seen, especially in an era when many horror films were independently produced or released direct to video. VHS covers could be downright terrifying. A trip down the horror aisle at the local video store could often be an act of bravery for my 13-year-old self, and, unfortunately, most often a much richer artistic experience than viewing the films inside those nightmarish Technicolor cases -- damn you blood sucking freaks! But I digress, one of the greats featured Roger Ward in Turkey Shoot his hands severed, stumbling after Olivia Hussey's character.
One-sheet refers to the standard north american sized 70 x 100cm (27 inch x 41 inch) movie poster, what is misleading is the one-sheet size isn't necessarily consistent or standard, and can vary by several inches/centimeters. This is especially true of some borderless full-bleed posters, which may be 66.04 x 101.6 cm (26 x 40inch) or smaller. The sizing can also change between film studios, with each film company in-house ad production group following it's own sizing and printing standards.
Recent updates may not appear in search query.