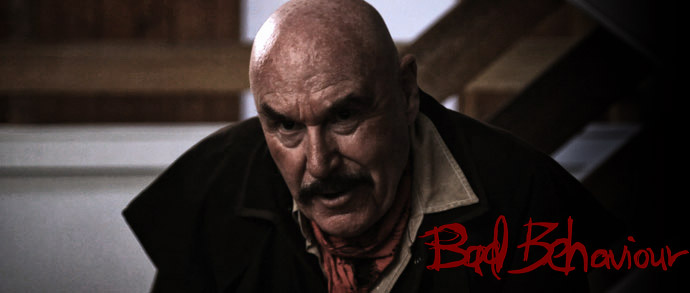 "It was the car you fucking dickhead! You left a very distinct, stolen white Rambler outside a house in a town of less than 10,000 people. Did you not guess that one of my fellows wouldn't have spotted that coming down the highway?"
Bad Behaviour
One Sheet Character Poster :
Roger Ward as Voyte Parker.
Bad Behaviour \Australian Cinema \Character Concept Art \Exploitation \Hell comes to Cecil Bay
Artists Description and general comments.
Client : MEDiAKiN / Sterling Cinema Pty Ltd / Global Alliance Productions / Caldwell Entertainment
Brief : Read script, on-set observations, utilise the on set photographer.
Medium : Digital : One of several Bad Behaviour Character poster concepts. Created in Adobe Photoshop 2012 a.d
Design Notes : This character poster for the Australian feature film, Bad Behaviour, potrays Voyte Parker's (Roger Ward) midnight ride to the small seaside town of Cecil Bay after a tip-off from one of his 'fellows', 'Fingers' McGee ('Aussie' Joe Bugner), regarding a stolen car and a suitcase full of cash. The ride itself is not featured in the final film. This one sheet poster features a 2007 Harley Davidson Soft Tail Standard - Custom ride with forward controls, bobtail fender, knockout 96 cube v-twin , pipes, sissy bar and disc lock. The Harley was provided for the film and photoshoot by Scoot 'n' Toot.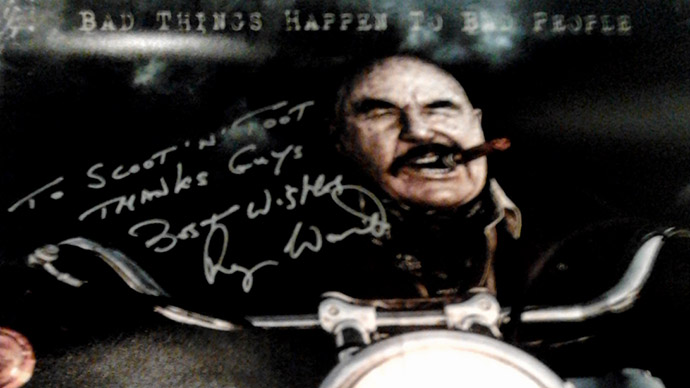 Roger Ward is a veteran Australian actor, author, producer and is probably best remembered for his roles as 'Main Force Patrol Captain Fred "Fifi" McPhee' in the original MAD MAX, as Hooks in Sandy Harbutt's Australian cult film: Stone and for his potrayal of the sadistic 'Chief Guard Ritter' in the Brian Trenchard-Smith Ozploitation classic Turkey Shoot (thumbs up to Roger for signing my copy) . He played a major part in the 2008 docu-drama Not Quite Hollywood a loving salute to the Australian B-Grade cinema of the 1970s and '80s; Roger was delighted when young writer/director Joseph Sims and Producer Steven Caldwell, having watched him in NQH, offered him the choice roll of the deliciously demented 'Voyte' . "I felt the same excitement that I experienced when George Miller knocked on my door and offered me the role of Captain Fifi. Bad Behaviour definitely has the same appeal". Go visit rogerward.org for more info on da man.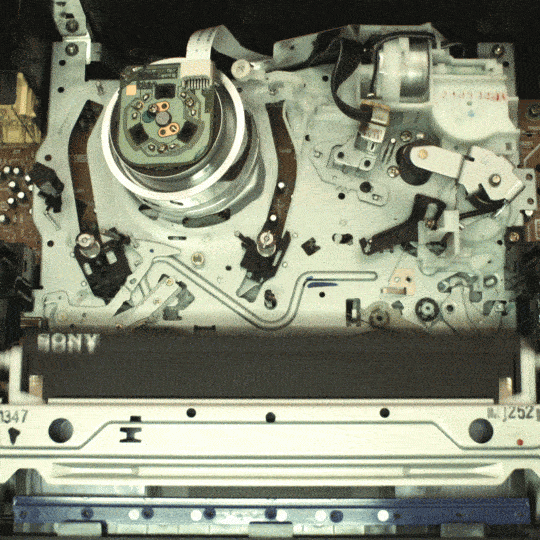 These are the old days man, the bad days, the VHS-or-Beta days. Back when video ment consumer-level analog magnetic tape, in the dark days of the format wars...

Downloads, DVD, and Blu-ray are all very shiny and convenient, but the horror section of my local 80's 'video-rental store' was a sacred and profane place— a vast undiscovered treasure trove of gritty illicit images. Today, most people order their dvds from Amazon based on movies they've already seen or heard of, or worse yet, they `flix everything they watch, ergo DVD cover art is now a pretty sanitized business. Actors you recognize, a scene from the film, the promo poster you've seen a thousand fucking times before (with a lot of dodgy photoshop edits and airbrushes screaming at you). Mid-80's VHS cover art was different, especially down in the horror aisles. Intense color and Extreme graphics were the only ways to give your film a chance to be seen, especially in an era when many horror films were independently produced or released direct to video.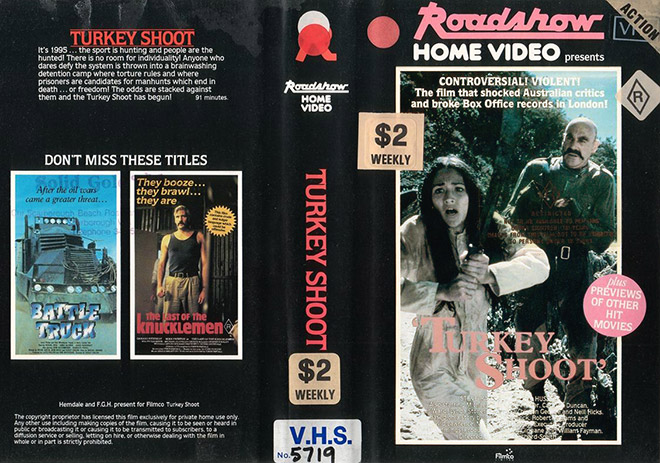 VHS covers could be downright terrifying. A trip past the horror aisle at the local video store could often be an act of bravery for my 13-year-old self, and, unfortunately, most often a much richer artistic experience than viewing the films inside those nightmarish Technicolor cases --Australia became the 80s dumping ground for any and all film material, due to the fact that the land of Oz latched on to VCR technology very quickly, and distributors found a new way to move film media that had previously sat in film cans, rotting away…New World Video left quite an impression for the horror film lover. Releasing such films as J.P. Simon's SLUGS, the first two HELLRAISER films, direct-to-video fare CELLAR DWELLER and ZOMBIE NIGHTMARE and some chosen cuts from New World Picture's classic 70's output (BURY ME AN ANGEL, ANGELS DIE HARD, PEACE KILLERS), New World Video had nearly something for everyone, If you desired comedy, you could laugh at TRANSYLVANIA 6-5000 or Larry Cohen's THE STUFF. If you wanted to take home a theatrical production, New World Video offered such films as DEAD HEAT. But, New World's stock in trade was horror films. Titles such as GHOSTKEEPER, THE HOUSE ON STRAW HILL, GHOST TOWN, TERROR IN THE SWAMP, TORMENT and many. many others lined the video shelves for the undiscriminating renter. But I digress, one of the greats featured Roger Ward in Turkey Shoot, his hands severed, stumbling after Olivia Hussey's terrified character.
Recent updates may not appear in search query.