The knowing enticement delivered by Judd Nelson's character, the delinquent John Bender:
"Being bad feels pretty good, huh?"
Bad Behaviour
Pre-production Poster :
One-sheet 70 x 100cm (27 inch x 41 inch) movie poster
Artists Description and general comments.
Client : MEDiAKiN / Sterling Cinema Pty Ltd / Global Alliance Productions / Caldwell Entertainment
Brief : Read script, on-set observations.
Medium : Digital : One of several Original poster designs created in Adobe Photoshop 2010 a.d for the Queensland Horror film Bad Behaviour.
Design Notes : Actors featured in this poster are Lindsay Farris as Peterson and Jean-Marc Manning as what appears to be the shattered corpse of Pierre. Back in the day, the horror shelves at the local video store was a special place—a vast undiscovered country of illicit sights. Today, as most people order their dvds from Amazon based on movies they've already seen or heard of, or worse yet, they `flix everything they watch, DVD cover art is a pretty sanitized business. Actors you recognize, a scene from the film, the promo poster you've seen a thousand times. Mid-80's VHS cover art was different, especially in the horror aisle. Intense color and extreme graphics were the only ways to give your film a chance to be seen, especially in an era when many horror films were independently produced or released direct to video. VHS covers could be downright terrifying. A trip down the horror aisle at the video store could often be an act of bravery for my 13-year-old self, and, unfortunately, most often a much richer artistic experience than viewing the films inside those nightmarish Technicolor cases. Now, don't get me wrong, I have really fond memories of watching movies on VHS in the 80's, but, it's important to separate one's fondness for the movies themselves from any misplaced nostalga of that shitty old format. The fact is, VHS licked balls: low resolution, panned & scanned, images that deteriorated with each subsequent view. You could pretty much be guaranteed that when you hired an old horror movie from the cheap section of the video library it would have some sort of picture quality problem. (BTW - Did the "tracking" button on VHS recorders ever really do anything?) and then it was head cleaning time if you hoped to watch the next Vid without an intermittent snowstorm.
The artwork was used for cover art for the films Soundtrack.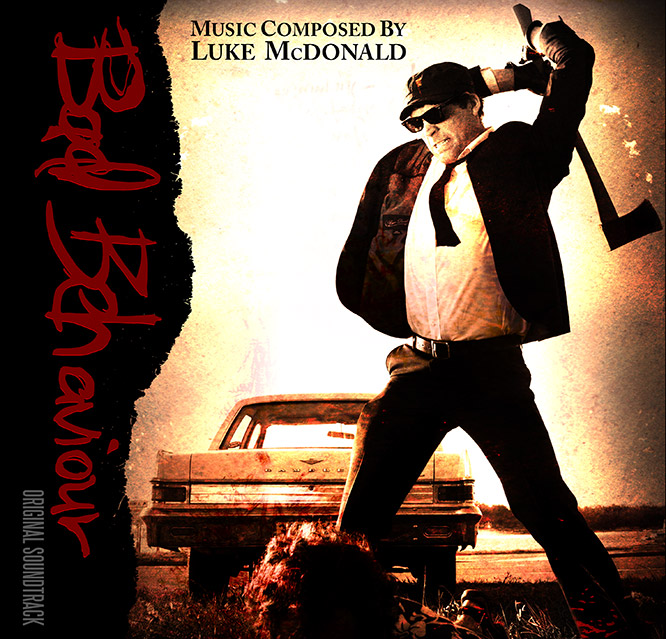 One-sheet refers to the standard north american sized 70 x 100cm (27 inch x 41 inch) movie poster, what is misleading is the one-sheet size isn't necessarily consistent or standard, and can vary by several inches/centimeters. This is especially true of some borderless full-bleed posters, which may be 66.04 x 101.6 cm (26 x 40inch) or smaller. The sizing can also change between film studios, with each film company in-house ad production group following it's own sizing and printing standards.
All names, characters, images and logos within the boundaries of this site are protected by copyright, and other intellectual property laws. All rights in relation to the products and creations identified within this website are owned by Anthony Marriott (Arkhamhaus Images) or the party designated as the owner of the rights. This site is© Anthony Marriott. All Rights Reserved. There is no system of registration for copyright protection in Australia. Copyright protection does not depend upon publication, a copyright notice, or any other procedure. Copyright protection is free and automatic. While the copyright notice is not required for protection in Australia and in most other countries, it does notify people that the work is protected and identifies the person claiming the rights. In Australia, copyright law is contained in the Copyright Act 1968 (Cth) and decisions of courts. As a result of international treaties such as the Berne Convention, most foreign copyright owners are protected in Australia, and Australian copyright owners are protected in most other countries.