Prologue :
Part two of the Townsville Vice Billogy
In 1987
Townsville Vice Squad Lieutentant James "Jimmy" Blubbs
went on a crazed anti-drug Killing Spree that ended with his eventual suicide, witnessed by his partner LT. Jason "Funny" Crockett....
Years later,
Jimmy
returns from the damned to seek revenge on those who bore witness to his original slayings. His replacement on the
Townsville Vice
squad begins to piece together this new wave of horrific and often bizarre murders until he himself starts to tread the fine line between fantasy and reality, sending him through a hellish, heart stopping nightmare of pure, ravor-edged terror.
BEYOND VICE
- A suspenseful drama and masterful thriller, (
coff
) laced with sizzling special effects and wacky humour that create a nightmarish film you'll never forget, no matter how hard you try.
Beyond Vice :
Townsville Vice II - Jimmy's Back
Film \

Action-Horror Hybrid

\

Parody

\

Updated 18/01/12
Artists Description and general comments.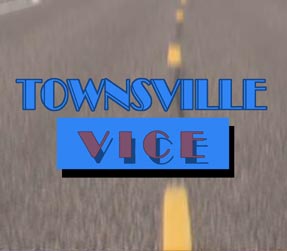 Client : Final year University Project ( in association with Zenon ).
Medium : Video Production : Colour (90 Minutes approx) 1991 (ye gods!)
Design Notes : One very important element in poster design is the use of colour. Colour is one of the best tools in design and allows for a vast amount of possibilities for conveying ones message to the viewer. If stripped of colour a movie poster would not be able to convey its message in as powerful a way as it otherwise does. Emotionally, we react strongly to colours. No matter how good a poster may be in its design, if stripped of all colour it would not be very impressive. Beyond Vice was created as a sequel to an earlier production Townsville Vice (1987). I wrote the script (or a big chunk of it ), served as a cameraman, acted in it and was involved in all levels off post production (editing, ADR etc). I have made films since I was a kid using super-8 film stock and advancing along with the technology available to me.
The lead character is a parody of Marion Cobretti, a policeman played by Sylvester Stallone in the 1986 action movie Cobra. The 'bad guy' is based on Nightmare on Elm Street's Freddy Krueger incorporating elements like his classic red and green sweater, the fedora hat, and a variation on his trademark metal-clawed glove. The original Townsville Vice Concept Came from the collective minds of Jason Kelly, Steven Trueman, Adrian Charles, Zenon Kohler & Anthony Marriott.
Film Making Experience :
StalkHer Concept art --John Jarratt attached to direct.- 2014
Quentin's Quest (short) Concept Art / Prop Design & /Construction - 2012
Solum (short) (post-production)-Graphic Designer - 2011
Sleeper (international release)- transcription / captioning - -2009
Bad Behaviour (international Release 2013)-- Art Director / Concept Artist/ Movie Poster Artist-- 2010
Sanctum (Released internationally 04 Feb 2011) -- 2nd Assistant Accountant (stop laughing)-- 2009
As of March 2011, Sanctum was the tenth-highest-grossing Australian film at the international box office.By 19 October 2011, it had taken a worldwide gross of $108,943,221.
The Professional Idiot (Completed-Film Festival circuit)-- Concept Art / Props / Continuity & script supervisor / transcription / captioning-- 2009
©lownrunner ( Pre-Production--still )--Concept Artist / Writer -- 2008
5 Blue Dogs (Pre Production / Purgatory ???) Pre-Prod Poster Concept Art -- 2008
Awaken (Animated Short) (Completed 2009 - Film Festival circuit -international sales)-- Concept Artist / Texture Painter--2007
Singh is Kinng (Released internationally August 08, 2008) 2nd assistant accountant ( again stop wih the laughing) -- 2007
Singh is Kinng (Hindi: सिंह इज़ किंग, Punjabi: ਸਿੰਘ ਇਜ਼ ਕਿੰਗ) opened to a 95–100% occupancy in India and grossed Rs. 29 crore in its first weekend, breaking the previous record of Rs. 22 crore set by Om Shanti Om. The film went on to gross Rs. 43.77 crores in the first week in India alone. This broke the record for the highest opening week gross also previously held by Om Shanti Om, which grossed Rs. 41 crores in first week in 2007. It has netted INR 68.48 crore in India, and is currently the 16th highest-grossing film according to net collections. It did record breaking business in Delhi, Rajasthan and East Punjab whereas the rest of India it did good business.Worldwide, Singh Is Kinng had an excellent opening. It shattered records in Pakistan. It has grossed over 2 crores in Pakistan in two weeks, which is a record for any Indian film. In North America, it grossed $1.1 million USD in the first weekend. In the UK, it grossed approximately $1 million USD. The film was elevated to "Blockbuster" verdict worldwide.
5L339W4LK3R (Pre Production / Purgatory ???) Storyboards -- 2007
The Patrolman (Screened @ the Trasharama film festerval )-- Actor / Writer / Director-- 2006
BorderPatrol (Released 2003) Concept Art / Prop Construction -- 2001
Information wants to be free! (short) (Completed)--Director/Editor-- 1994
Living Color (Completed- Australiam television release) Concept Art / Poster Design --1992
Beyond Vice ( Townsville Vice II- Jimmy's Back ) (Completed)--Actor / Director / Writer / Editor-- 1991
Townsville Vice (Completed)--Actor/Stunts -- 1987

Beyond Vice Soundtrack : (Watermelon records)

Recent updates may not appear in search query.