Pigasus Daddow SkateBoard Deck Art
:
Ad astra per alia porci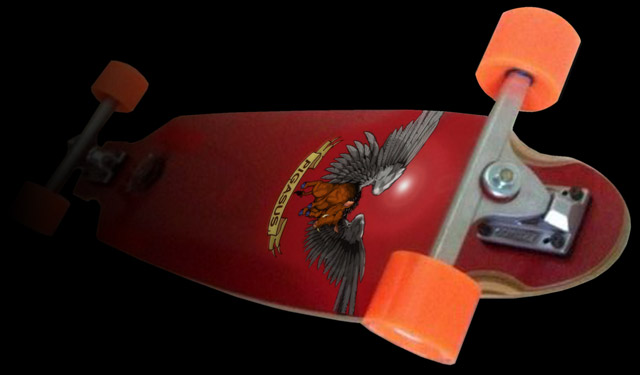 "The nomination of the boar hog Pigasus for President of the United States... had been the most transcendentally lucid political act of the twentieth century…" - Robert Anton Wilson, The Illuminatus! Trilogy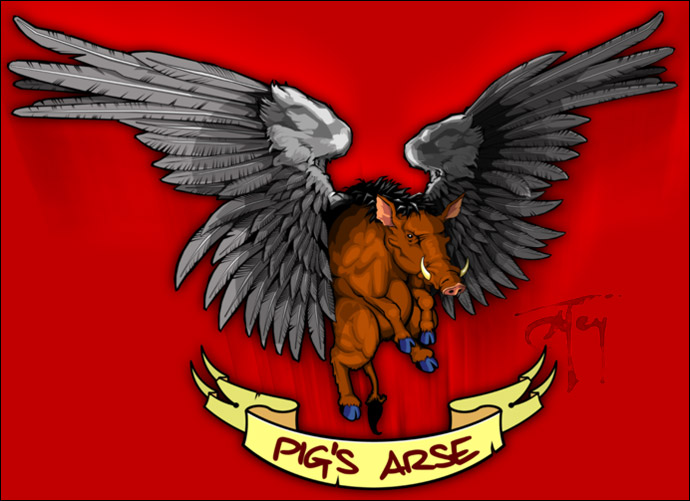 Pig | a| sus ( pìg´ əsəs ) ,n.,genitive Pig | a | si.
1. A wild immortal four-footed animal ( see: swine ) with a stout, heavy body, cloven hoofs, a broad snout,
warty protuberances, a gnarly mane of dred-like hair, large protruding tusks and a pair of movable external organs for flying ( see: wings ). Pigasi will eat almost anything - roots, plants, bird's eggs, small illustrators.
Mythology. Legend has it that the mighty Pigasus leapt fully formed from the blood of the gorgon 'Euryale', having cut her finger whilst preparing a herbal concoction for a relaxing evening 'in'. Though it should be mentioned Euryale sees a lot of things when she's having a night 'in'.
2. Illustrative genius; the means by which illustrators ( see: draw, look mum I can ) soar into the realms of high-artistry,the Pigasus is considered the steed of Illustrators: "hey dad, I'm going to be an illustrator "exclaimed the youth. "Pigasus" (pronounced: Pig's Arse) replied the father. As one refers to a poet 'mounting the Pegasus' when putting pen to paper, the illustrator will mount just about anything whether the Pigasus is around or not.
When not observing the sexual antics of illustrators or aviating they can be found in the company of large marauding mobs of Centaurs ( see:Solid-hoofed alcoholic quadrupeds ), but, sadly not as often as in millennia past, given that the Pigasi run, Pantheon-sanctioned, 'Dionysian dance-parties©' have left many a Centaur ( and quite a few Titans ) incapable of functioning for weeks thereafter. In fact at one such event Chiron fell off the wagon and ended up m...( Ed: descriptive content deleted, re:non-disclosure pact Chronos vs. Dionysus, what a Centaur and a consenting bovine do in the privacy of a darkened paddock is their own business ) The Pigasus also ran for the presidency of the United States in 1968. The candidacy was short-lived. Barely had Jerry Rubin begun the official introductions at Pigasus' first press conference when Rubin, Pigasus, folk-singer Phil Ochs, Stew Albert and several others were arrested on the morning of August 23rd, at the Chicago Civic Center. The humans were bailed out later in the day, but Pigasus' ultimate fate remains unknown as the arresting officers were found in an alley hog-tied and naked, their squad car was never recovered...the officers refused to make a statement regarding the incident.
"aquilis velociores leonibus fortiores"
Notes:

1. Never approach them while plucking a banjo or similar musical instrument, avoid wearing overalls.
2. Never ever challenge a flying pig to a drinking contest.
3. If you believe you have seen or are currently seeing a Pigasus and are not of the illustrative persuasion,
remove any and all pharmacopoeia from your person and take a few weeks off.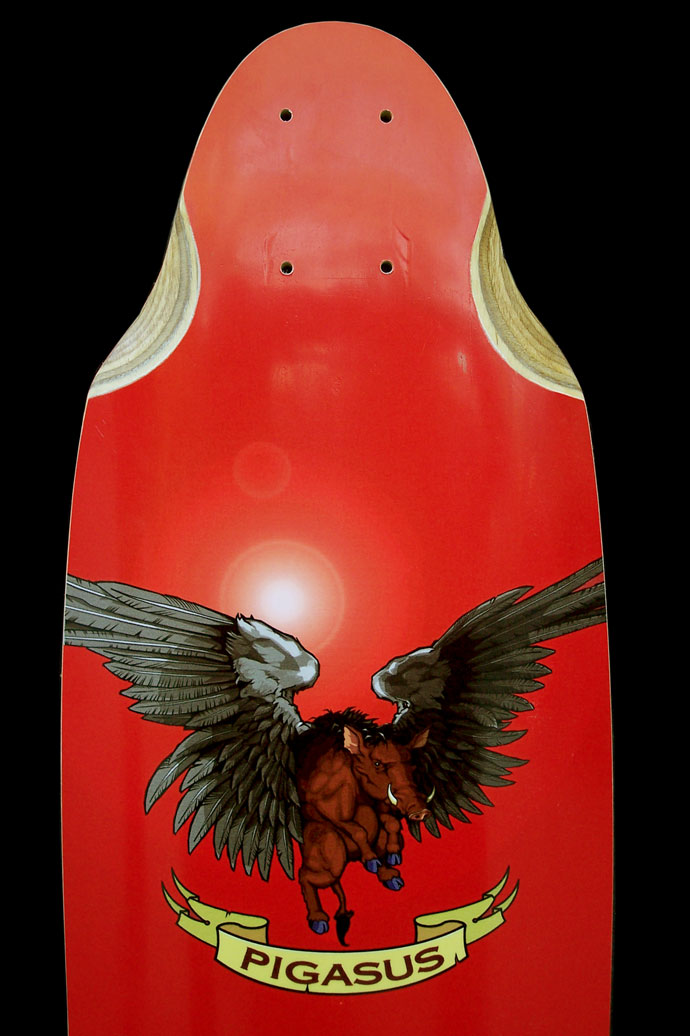 Wheelbase is 69-71, Length 935, width 250 at centre 210 front and 220 at rear. Has a 'W' concave from front to back, much the same as Daddow Skateboard's earlier 120y design, 10mm deep and a 4 degree wedge at the front. The Daddow Pigasus is a gnar eating top mount The slight Camber and 'W'-Cave will feel super comfortable under your feet. Plus the rails let you know exactly where you're feet are placed on the board at all times, letting you stay focused on the road and improve your riding. Stay confident and flat out lookin' cool through corner and slide transitions.
The Daddow Skateboards Pigasus is suited for any situation, wheather it's Bombing hills, thrashing the Freeride or just Cruising around town.

Original Flying Pigs sketch :
Sketchpad
\Winged warthogs \Passing above and beyond ordinary bounds \Suidae \ updated above 30/05/11
Artists Description and general comments.
Client :
Original pencil artwork pn cartridge. Started life as a personal folio piece. Then commisioned by Daddow Skateboards to create a series of images to be intergrated as artwork into the company's range of premium hand crafted skateboards. The Pigasus sketch was requested as a design possiblity.
Brief :
As is my want I got into drawing some really funky wings, and decided a warthog would work far better than your average pig.
Medium :
Pencil Sketch ( on Cartridge ) 28cm by 40cm : coloured and enhanced in 2002 A.D. Completely redrawn and coloured in Photoshop CS5 in May 2011AD.
Design notes :
I remember discussing with my Dad how you would clarify the species/genus of a flying pig. He got quite a buzz out of nutting out the latin combinations for its definition, even though i'm sure he thought it was inherently silly. The rest was just animal anatomy (the warthog may have had it's musculature beefed up somewhat - twas playing with superficial muscle masses relating to surface modeling).

Soundtrack (
music to draw to
) :
Oh Brother where art thou? - Various Bluegrass Artists.
Recent updates may not appear in search query.
"It's hairy. Got some pretty heavy ordnance there. I lost a few recon ships there now and again. Is that goddamn village Vin Drin Dop or Lop ? Damn gook names all sound the same. Mike, do you know anything about that point at Vin Drin Dop ?"-"That's a fantastic peak. "- "Peak ?" - "About six feet. It got both the long right with left slide. It's unbelieveable, it's just Tube City..."- " Well why the hell didn't you tell me that before ? There aren't any good peaks in this whole, shitty country. It's all goddamn beach break."- "It's really hairy in there,sir. That's where we lost McDonnel - they shot the hell out of us. That's Charlie's point." - "Sir, we can go there tomorrow at dawn. There's always a good off-shore breeze in the morning."- "We may not be able to get the boat in. The river may be too shallow."- " We'll pick your boat up and put it down like a baby, right where you want it. This is First of the Ninth, Air Cav,son- airmobile. I can take that point and hold it as long as I like -- and you can get anywhere you want up that river that suits you, young captain. Hell, a six foot peak. You take a gunship back to division -- Mike, take Lance with you -- let him pick out a board, and bring me my Yater Spoon -- the eight six."-"I don't know, sir -- it's -- it's --"- " What is it soldier?- "It's pretty hairy in there - it's Charlie's point..."- "Charlie don't surf !""