Once upon a time, the invisible world which surrounds us was very much closer than it is today. In the days when church bells were the loudest sounds in the english countryside, a wanderer through the meadows in the fecund stillness of a summer twilight was concious of a magic which cannot exist in such contrivances as computer games.

The spirits of the earth and trees all hovered on the verge of revelation, and spoke messages now inaudible to minds cluttered with the debris of technology.

There could be no doubt that faries and pixies, gnomes and goblins, lived in the flowering hedgerows; that a ramshackle cottage was the home of a witch and that bodies peeped through the knothole of a hollow tree...

It is in vain to dream of a wilderness distant from ourselves. There is none such. It is the bog in our brain and bowels, the primitive vigour in us, that inspires that dream...
...And Now A walk in the Black Forest
:
Sketchpad \ updated 03/08/08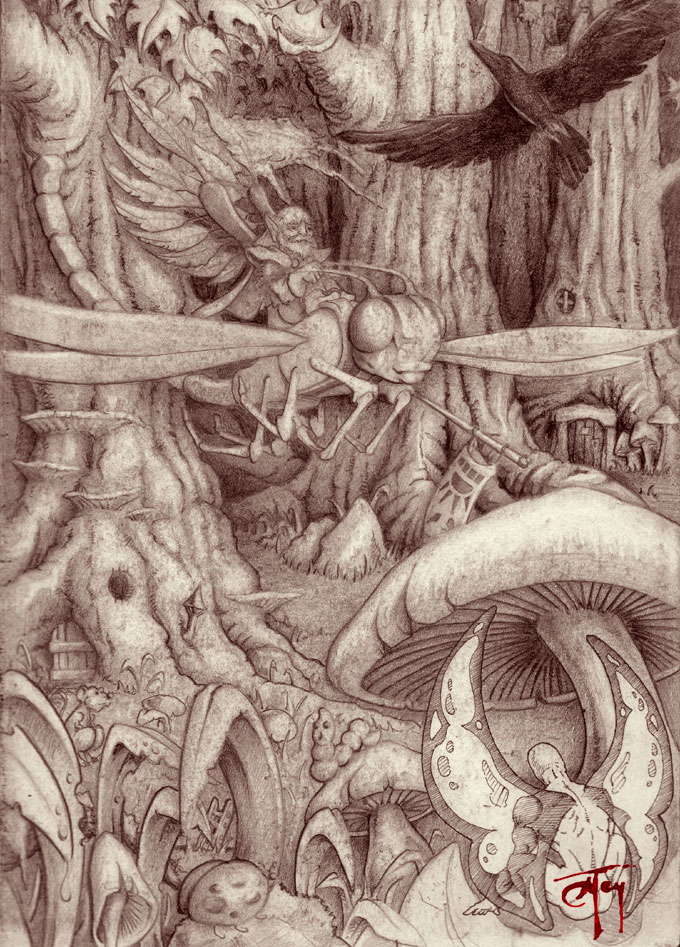 "The poetry of earth is never dead:
When all the birds are faint with the hot sun,
And hide in cooling trees, a voice will run
From hedge to hedge about the new-mown mead;
That is the Grasshopper's-he takes the lead
In summer luxury-he has never done
With his delights..."

Poems | 1817
John Keats
Artists Description and general comments.
Client : Personal folio piece.
Brief :
Pencil Sketch (on Cartridge) 20cm by 28cm : coloured and enhanced in Adobe Photoshop 2002 a.d
Design notes :
Soundtrack (music to draw to) : Secret Garden - Songs from a Secret Garden.
Recent updates may not appear in search query.