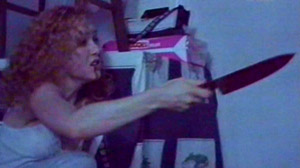 Molly & Dougle Galielo's picturesque life together begins to fade and crumble under the storm-like clouds of an ever harshening reality. Their bleak marriage, coupled with the recent premature birth of their first-born child, strains their relationship to near breaking point. The baby's ensuing illness and Dougle's cold-heartededness leave Molly feeling lifeless, despondent and shattered. She would hard pressed to believe life could get any worse...until Hell arrived on her doorstep.
Living Color
Promotional Poster :
Film Posters
\Film \ Theatrical Poster Art \ Horror genre \ Acrylic Painting on Canvas \
Artists Description and general comments.
Client : Cinérgy Motion Picture Entertainment / Westworld Film Corp:Primary consultant : Neal Taylor
Brief : Create promotional poster for Living Color, a Brisbane based horror film. Reference photos supplied by Cinérgy. Photoshoot required.
Acrylic (on Canvas) 1.25m by 2m : (1992), photographed, Doctored in Adobe Photoshop 2002 a.d and again in 2011 a.d
Notes : Living Color : Run Time: 92 min (MA) suitable only for mature Audiences strong violence, strong offensive language, Adult Themes.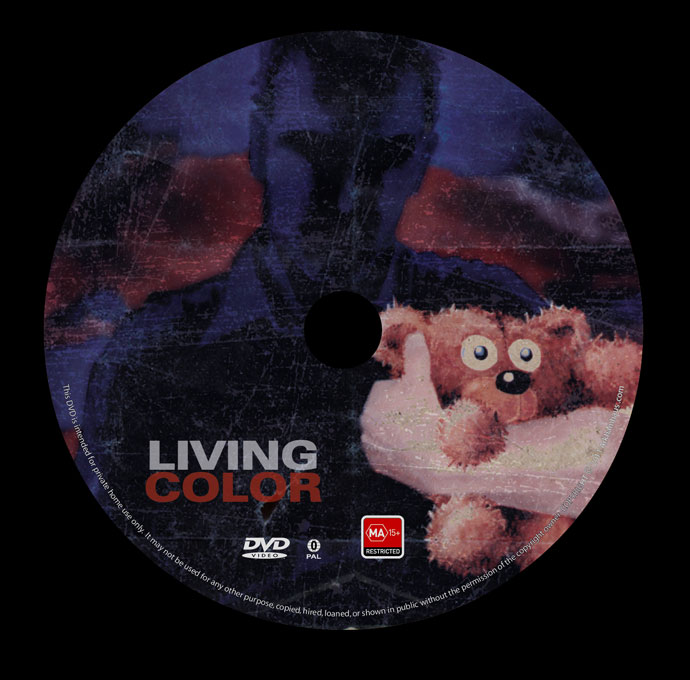 Onset Crew
1st Assistant Director
Angella Mcpherson

Location Manager & Second Assistant Director
Gareth Calvery


Continuity & Wardrobe
Cathy Thomas

Camera Department

Camera Operator
Nick Paton

Camera Assistant
Margaret McClymont

Clapper/Loader
Tony McGrath

Grip & Lighting

Key Grip
Geoff Lamb

Gaffer
Ian Withnall

Best Boy
Daniel MacCarthur

Art Department

Set Dresser

Art Department Runner
Mel Chavez

Makeup & Wardrobe
Make-Up & Special Effects Make-Up
Heidi-Jayne Mccann

Make-Up Assistant
Gina Giardina

Makeup & Wardrobe Assistant
Michelle Robinson

Sound Department

Sound Recordists
Max Bowring
Kerry T. Mulgrew
Adrian Alback

Boom Operator
Luke Denham

Post-Production
Off-Line/On-Line Editor
Suzanne Flannery

Sound Editor/Mixer
Michael Oakhill

Foley Artists
Brad Howard
Geoff Lamb

Production Crew

Caterer
Desi Achilleos

Production Runner
Michelle Robinson

Production Assistants
Jacqeline Jones
Steven Matthews

Unit Publicist
Shunette Champs

Casting Director
Jacqeline Jones


Legal Services
Naroile Withnall
Morris, Fletcher And Cross
Matthew Kealley
Ian Richardson

Special Effects Make-Up
Believable Effects
Adam Head & Brad Greenwood

Aaton Super-16 Camera
Mark Wareham
Lemac Film And Video

Lighting & Grip Gear
Cinequip (Qld)

Laboratory Services
Cinevex (Melbourne)
Atlab Australia

Freight Services
Ansett Airfreight

Communication Equipment
Mobiletronics Pty Ltd

Furniture Supplied By
Bargain Hunters Paradise
Capalaba
Myers- City Store
Radio Rentals
Garden City

Insurance Provided By
Cinesure

Post-Production Services
Hoyts Jumbuck

Neg-Cutting Services
Neg-Think Pty Ltd

Neg-Cutter
Greg Chapman

Super-16 Telecine
AAV Australia
Melbourne

Color Grader
Stanley Lopuszanski

This Film Was Shot On
Eastman Kodak
7248, 7296 & 7231

Poster Artwork By
Anthony Marriott

Music
"Fate"
Written By Lex Ferrari
Performed By Too Illusive
Courtesy Lex Ferrari

"You're My Baby"
Written By Lex Ferrari
Performed By Too Illusive
Courtesy Lex Ferrari

Original Music Score By
Shane Bryzak

Music Score & "Fate"
Recorded At
West-End Music

Engineered By
Wyn Wynard

"You're My Baby"
Recorded At
Vibafeel Studios

Engineered By
Michael Borkowski

Eps Keyboards Supplied By
Music Junction

The Producers Would Like To Thank The Following:
A Fantastic Cast And Crew
Westworld Film Corporation
Doug And Eileen Taylor
David And Yvonne Knowles
Louis And Suzanna Nagy
Jan Haxton
Powers Brewing
Silvio's Pizza
Coca Cola Bottlers (Qld)
Carlton United Brewing
Mal Evans
Simon Purton
Paul Lapointe
Rod Stevens
Cliff Chandler
Trevor Hermann
Ian Maycock
Tricia Scanlan
Rehana Tofie
Helen Reeves - The Lunch Lady
Brisbane Independent Filmmakers
Carl Woods
Jennifer Hillier
Jack Myernick
Rothmans Australia
Mr Toys

Brisbane City Council
Inspector Ken Hiddle, Qld. Police
Queensland Fire Service
Lawrie Sheridan, Studio-A-Casting
Steven Knowles
Julian Rajah
Prue Wilkinson
Princess Alexandra Hospital

Sue Van Drennen
Robin Kenney
Residents Of Laurel Ave, Chelmer
Peter And Margaret Adams
Coral Hansen And Family
QTQ 9
Barry And Margaret McGrath
Wayne Champs, Kimberly Clark
Graham And Gloria Allen
Stephen And Glenys Calvery
James Limpus
Allan And Danielle Birken
John, Lynette & Terasa Livingstone
Johan And Merle McNeilage
Bruce And Sharyn Hartsorn
Robyn Edwards
Alan Swanepoel
Steven Spielberg
Special Thanks To:
Leigh Christensen, Kodak
Amblin Entertainment

Cast Of Characters

Molly
Kim Denman

Christian
Michael Julian Knowles

Dougle
Derek Rucker

Rachel
Evelyn Taylor

Girl 1
Candice Carter

Girl 2
Karyn-May Till

Policeman
Graham Furness

Doctor
Scott Webb

Nurse 1
Alexandra Panagos

Nurse 2
Sonya Fola

Nurse 3
Tony Reus

Nurse 4
Jodie Rankie

Nurse 5
Niki Galea

Orderly
Peter Manning


The Characters And Events In This Motion Picture Are Fictitious, And Any Similarity To Actual Persons,
Living Or Dead, Is Purely Coincidental.

This Motion Picture Is Protected Under The Laws Of Australia
And Other Countries. Unauthorised Duplication, Distribution Or Exhibition May Result In Civil Liability And Criminal Prosecution.

This Motion Picture Was Independently Financed And Produced In Brisbane, Queensland, Australia

A Rene Nagy Jnr. Production Of

A Neal Taylor Film

Screenplay © Copyright 1991
Cinergy Motion Picture Entertainment P/L
Motion Picture © Copy Right 1992
Cinema Plus Partners-
A Limited Partnership
Recent updates may not appear in search query.