Large Scale one piece Mold :
Animatronic Spider
\Mold-making \Cynotech \Animatronic Technologies Aust \ updated 07/05/15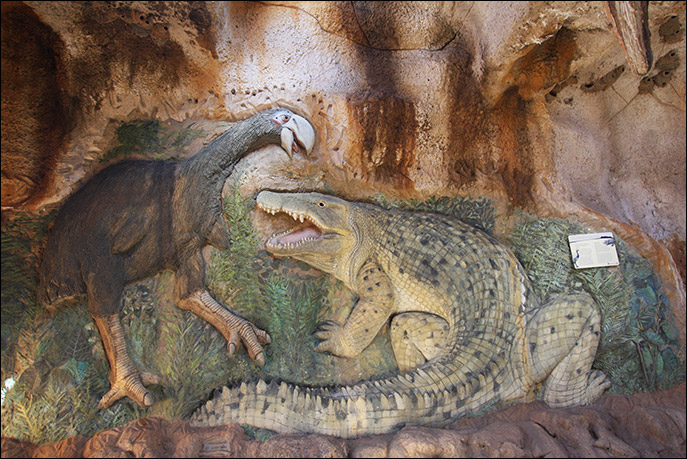 Artists Description and general comments.
Client :
Riversleigh Fossil Interpretive Centre ( Mount Isa ) via Animatronic Technologies Australia (now Cynotech)
Medium :
Liquid Latex :
Used to encase the topside of the original clay 3D relief Sculpture. Reinforced with fibreglass backing.

Design Notes :
I was not involved with the final set up at Riverleigh. Riversleigh (10,000ha) comprises the southern section of Lawn Hill National Park in north-west Queensland. Riversleigh was gazetted as part of the Lawn Hill National Park under the Queensland National Park and Wildlife Act 1975 in 1984.
The bird about to become lunch is the Genyornis newtoni, a flightless bird with thick, short legs that weighed around 90 kilos ( 200 lbs-- the metric system dammit! ) - twice as heavy as the modern day emu. The other things a Croc. The largest recorded (saltwater) crocodile (Crocodylus porosus) measured at 8.6 meters (28.2 ft) and weighing 1352 kilos (2870 lb) shot by Mrs Krys Pawlowski in the MacArthur Bank of the Norman River in Queensland, Australia in 1957-58.
The crocodile gets its name from the Greeks who called them κροκόδειλος (krokodilos), meaning stone worm.
Soundtrack (music to mold to) : Murder Ballads- Nick Cave and the Bad Seeds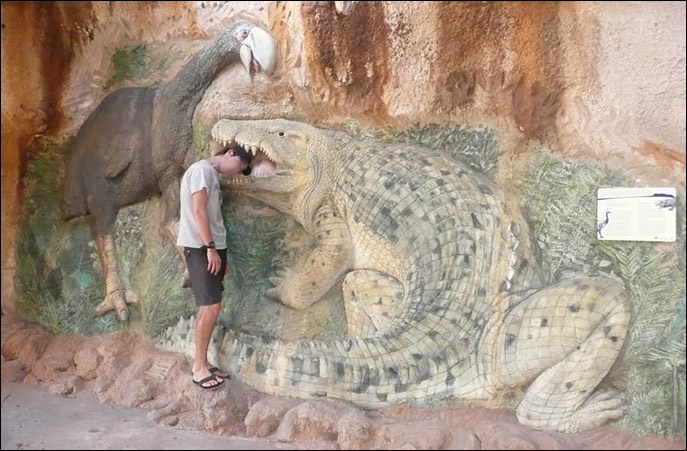 Recent updates may not appear in search query.