Quantus tremor est futurus...
Every year Sinematic disasterpieces are up for wining prizes and scoring national exposure. Trasharama agogo also accepts films from all over the world in a special international category: Freaks from beyond the land of the great white cloud! Pre-2007 Trasharama Short Film Festervals have yielded: Bogan zombies, killer lesbian go-go dancers, rabid marsupials, vampire babes, nasty aliens, trailer trash filmsters, dog poo doco's, Post-coital psychosis, demented animations, even a werewolf From the Stygian forests of Tasmania (One thing about visiting Tasmania I never could stomach, all the damn werewolves. )....
WolfBoy
Screened at the 2006 Trasharama Film Festival
Directors : Tom Priestley & Bill Flowers TAS
IMDB: Bill Flowers / Tom Priestly
Sindee unleashed for another year :
Gallery 1
\Dangerous Power Tools\ Zombie Art \Shapeshifting D.O.P\ Radioactive Decay Display | 16/09/07
Artists Description and general comments.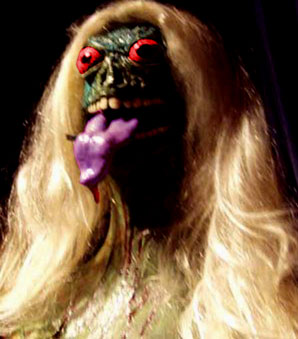 Client : Trasharama A-go-go Annual short Film Festival.
Brief : Update and enhance Trasharama's 'Sindee the Undead Cheerleader' character (created by Arkhamhaus.com) for this years festerval, as well as supplying additional artwork. The Sculpted 1:1 scale model of Sindee was based on the 2006 artwork (artist's details pending).
Medium : Digital illustration:(mouse) 'Sindee the Undead Cheerleader' created in Adobe Photoshop 2007 a.d. Character is to be displayed in promotional flyers, on the Trasharama website and sold as badges, previous Sindee artwork sells as t-shirts. The Werewolf cameraman character has been reposed and had his camera updated.
Design notes : One Job I Just love doing, sure its not every ones cup of tea, but hey, I grew up watching 70's and 80's horror flicks. The idea for flyers this year was to have Sindee bursting out of a Birthday cake, however due to time constraints the artwork looked a little tame and boring, so I suggested the 44-gallon drum of radioactive-undead-waste-product (A zombie in a can if you will). The Werewolf character was tidied up :better teeth, better shading, updated the ancient Super-8 camera he had in previous years to a prototype digital camera. With some extra time up my sleeve I attacked the cake idea again, not feeling the need to to be so conservative with the blood splatter (see above).
Soundtrack (music to draw to) : Reanimator Film Score, by Richard Band .
Recent updates may not appear in search query.