Its Back from wherever they keep these freaks locked up ...
Returns yet again from Beyond the grave to accept submissions of Short Horror & Sci-fi films, Grind-Outhouse featurettes, Baaaaad Taste Comedies, Coprophilic Dodgymentaries, Cheesy Animations, Z-grade Schlock, Slasheriffic SINema and other Filmic Disasterpieces for their 12th Anniverscary Film Festival.....(cue evil laughter) Entry Deadline : 14th August 2008 (late deadline September 9th 2008)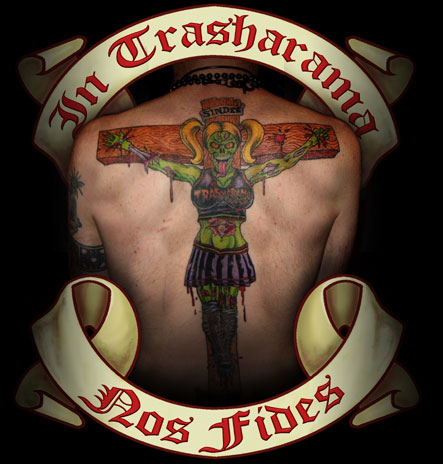 "It' ll be crazier than ever with more surprises than a drunken night in Thailand....and twice as fun as a little tree monkey down your pants..."
Do you have the Rot Stuff? Dare you commit your Demented Blood-soaked fantasies to celluloid... coff Digital Video (note to self: delete dated cinematic references). Your very own Sin-ematic disasterpiece could be up for fabulou.. wonderf... ummm... prizes and nation-wide exposure. Previous Trasharama Short Film Festervals have revealed : the Messiah on steroids, Dog-Boys, Greedy Guts, zombie security guards, Road Kill, killer lesbian go-go dancers, rabid marsupials, vampire babes, nasty aliens, faux grindhouse trailers, Fecal doco's, L'enfant terrible, demented animations, Numb Skulls, even a musical number ( a personal fav) .....
2008 :
Sindee unleashed for another year
ZombieTown
\

Meaty Chainsaws

\

Blood splattered Zombies

\

Senor Spielbergo

\

Daemons of the night

|

Updated 28/09/13
Artists Description and general comments.
Client : Trasharama A-go-go Annual short Film Festival.
Brief : Create Promotional comic book Style Art for Trasharama's 'Sindee the Undead Cheerleader' (created by Arkhamhaus.com) as well as a caricature of Steven Speilbergo's severed head :). The Layout of the flyer required some alteration to the original artwork. Layouts for the promotional flyers were an addition to this job.
Medium : Digital illustration (Wacom Tablet) : 'Sindee the Undead Cheerleader' created in Adobe Photoshop 2008 a.d. This female zombie cheerleader Character is to be displayed in promotional flyers, on the trasharama website and sold as badges, previous Sindee artwork sells as t-shirts ( a variation on this years artwork was commissioned ).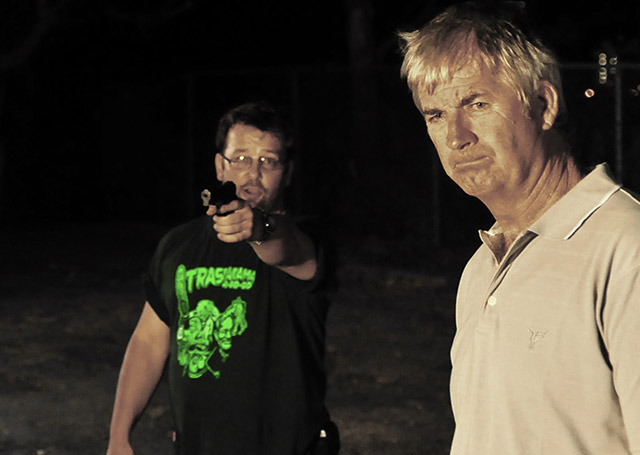 Anthony Marriott and John Jarratt attempting a shamless piece of product placement on the set of Bad Behaviour (2010).
Design notes :
One Job I Just love doing, sure its not every ones cup of tea, but hey I grew up watching 70's and 80's horror flicks. The concept this year was to tie in with the additional title '

Slop & CHopFest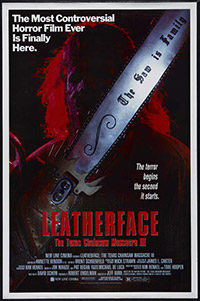 The more observant of you might have noticed a few references to some of the old school Horror movies: Sindee's Chainsaw has "The saw is Friendly" deep etched into the guide bar. This is a nod to Leatherface: The Texas Chainsaw Massacre III (1990) -This lovely piece of cinema
gained a certain amount of notoriety prior to its release due to a battle between New Line Cinema and north america's MPAA, which initially rated the film an X because of its graphic violence.'....and the chainsaw itself, attached as it is to Sindee's right hand obviously homages Ash (Bruce Campbell 'fuck yeah) from < Evil Dead 2,
Techniques : For those of you interested in creating artwork similar to Sindee and her undead associates, you could always try some simple offsite photoshop tutorials >>>> here.
Addendum : Dick Dale, Founder of the Trasharama agogo film festival recently completed a full back piece of a crucified Sindee 'the' undead cheerleader. See above.

Second Addendum:
My Chainsaw wielding cheerleader predates NekoshowguN's Lollipop Chainsaw (

ロリポップチェーンソー

)/ Juliet Starling design.
Recent updates may not appear in search query.