Overview of White Water World :
Mural : Wiggle Wall @ Wiggle Bay :
Gallery 1 \ the Wiggles \ White Water World \ Gold Coast \ Theme Parks | Murals | 14/06/07
Obviously the Murals have been updated since we first painted it what with all the new editions to the Wiggles crew.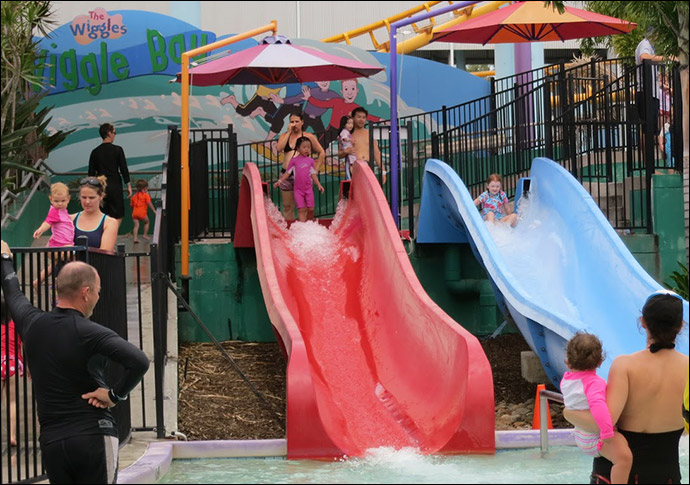 Since I did this Mural along side Daniel Möller its been reworked to allow for new Wiggles and looks a little worse for wear.

Artists Description and general comments.

Client : Sanderson Group
Notes : Sanderson Group create high quality theme entertainment, and attractions, designed to increase market share for their cliental, in this case being WhiteWater World, a theme park located on the Gold Coast in Queensland, Australia that opened in December 2006. It is situated directly adjacent to the Dreamworld theme park, Wiggle Bay is an area for infants with a Wiggles theme. Characters featured include the Wiggles, Captain Feathersword "the friendly pirate", Dorothy the Dinosaur, Henry the Octopus, and Wags the Dog. In the first 24 days of operation to 31 December 2006, WhiteWater World performed above expectation with over 23,000 guests going to the park. WhiteWater World continued to exceed Ardent Leisure's expectations during its first year of operation. The first year saw 493,227 guests enter the park exceeding the 450,000 estimate. This helped the park generate over $8.4 million AU in revenue.
Medium : Acrylic on concrete
Recent updates may not appear in search query.