Prologue : Special Thanks to Marika Neuberger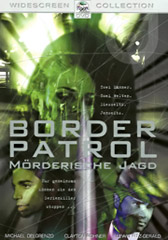 Miami detective, Freddy Chavez (Michael Delorenzo) steps across the invisible "border" between the living and the dead only to learn that the world in between is populated by hard-working gumshoes chasing down "deceased" villains who try to escape from beyond and return to this mortail coil, policing the barrier between life and death by pursuing tainted spirits who have returned to the Earthly plane without a valid license.
He teams up with Cal Numan (Clayton Rohner), a wisecracking, fedora-wearing, zoot-suited "

ethereal

" dick, to recapture the sinister

phantasm Dr. Helms (Lewis Fitzgerald), a serial-killing surgeon with a mutated soul capable of reincorporation. Cal will need to seek advice from the all-knowing yet child-like Hieronymus...
Good Guys. Bad Guys. Dead Guys. It's Going To Be One Hell Of A Night!
Steampunk Style GhostBustin' Pistol Prop :
Artists Description and general comments.
Recent updates may not appear in search query.