Wraparound Cover art
:
Marc Bodewes' chariot of Souls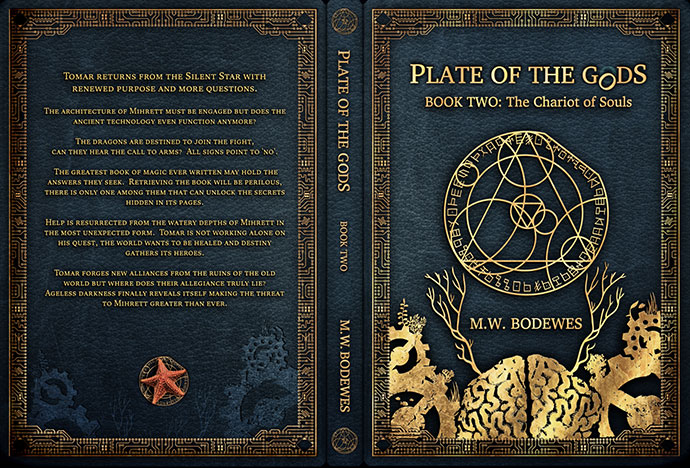 Plate of the Gods Book two, the Ch
a
riot of Soul
s
: Wraparound cover design/ dust jacket artwork.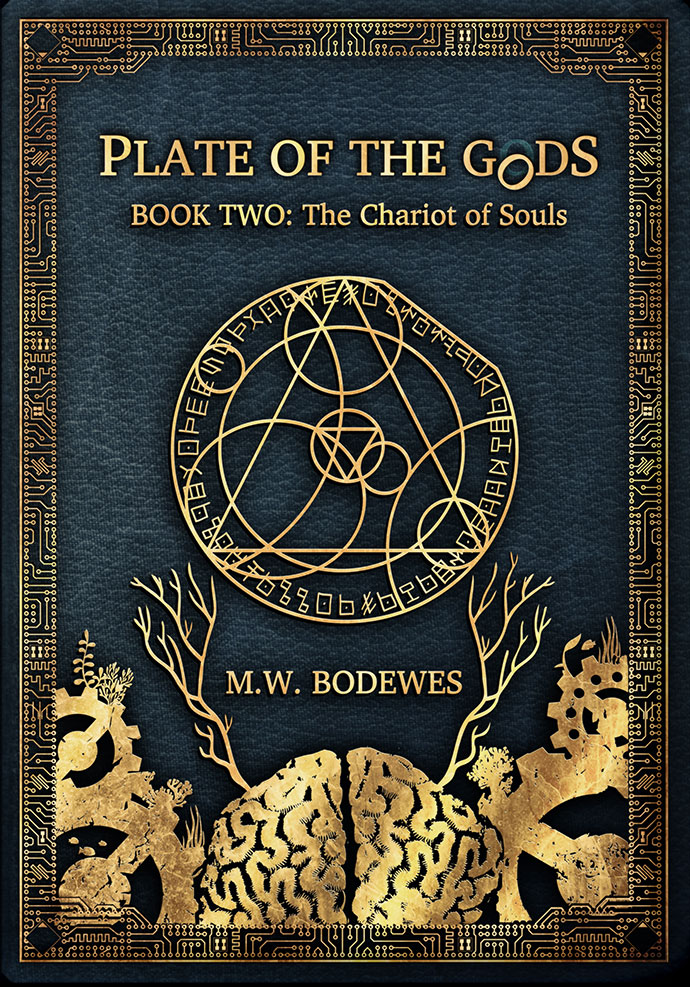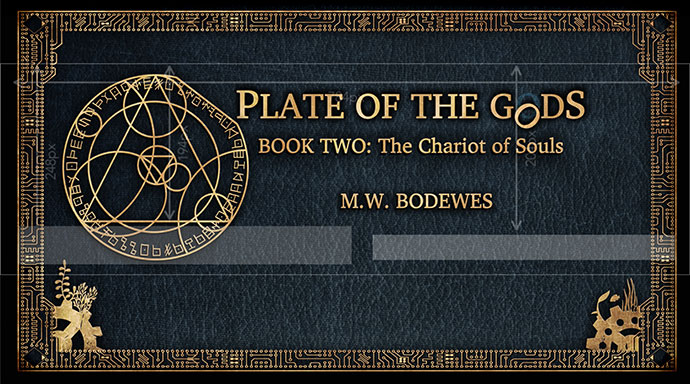 Facebook Group Header Artwork for The Chariot of Souls part two of the Plate of the Gods fantasy Trilogy: The header is displayed differently across platforms, with variations in the placement of page options and page title.
Client : M.W. Bodewes
Brief : The Author already had some strong concepts designs and preliminary vector art which really made creating the finished art for this e-novel and its sequel a piece of cake and fun to boot.
Medium : Digital illustration : wraparound cover art for Book two of the Plate od the Gods trilogy created in Adobe Photoshop 2017 a.d. Artwork is to be displayed in promotional flyers, business cards, on the M.W.Bodewes and Amazon/Goodread websites as well as the Plate of the Gods facebook page..
About the Client : Mark Bodewes is middle-aged, half Australian and half Dutch but possessing of the combined awesomeness of both countries. Mark invented the term 'Under-Nederlander' to describe this union of nationalities…but mostly because he thinks it would make a cool name for a Bond villain.
Mark has chosen to reside on the Gold Coast of Australia with his wife & children. They are more or less ok with this arrangement. Without credible paternity tests his children can deny their parentage and still lead fulfilling lives. They refer to him as 'uncle' and tell everyone they are Maltese.
Mark is currently afflicted by Lyme disease which is pretty awful and makes him a pain in the ass to be around. He battles the poor health with grit & determination, channelling his formidable imagination into carefully crafted stories. His writing genius will not be denied, and he's working on the mood swings. As a result he spends most of his time locked away muttering to himself whilst working on his next masterpiece.
In addition to supreme writing talent Mark fronts a hard-rock band that gets noise complaints from other musicians at the rehearsal studio. They come to complain but are then mesmerized by the intensity. Mark is also an adept artist but refuses to draw anything other than unicorns with chainsaws. He says he has his reasons.
Mark also loves to do many different character voice impersonations and has perfected the worlds greatest Chilli Con Carne recipe. Healthy & delicious…the chilli, not the voices….they're often racially insensitive AND crassly inappropriate. Mark will say just about anything for a laugh. The Chilli recipe is seriously good though. He'll share it with you if you ask nicely....
Soundtrack (music to draw to) :
All names, characters, images and logos within the boundaries of this site are protected by copyright, and other intellectual property laws. All rights in relation to the products and creations identified within this website are owned by Anthony Marriott (Arkhamhaus Images) or the party designated as the owner of the rights. This site is © Anthony Marriott. All Rights Reserved. There is no system of registration for copyright protection in Australia. Copyright protection does not depend upon publication, a copyright notice, or any other procedure. Copyright protection is free and automatic. While the copyright notice is not required for protection in Australia and in most other countries, it does notify people that the work is protected and identifies the person claiming the rights. In Australia, copyright law is contained in the Copyright Act 1968 (Cth) and decisions of courts. As a result of international treaties such as the Berne Convention, most foreign copyright owners are protected in Australia, and Australian copyright owners are protected in most other countries.

"Night time is really the best time to work. All the ideas are there to be yours because everyone else is asleep."
— Catherine O'Hara