The Annual Gold Coast Indy street circuit ( The event necessitated a name change after the withdrawal of the Indy Racing League series -in early 2009- from which the event had previously derived its name-- its now the SuperGP -- a combination of both the V8 Supercars and A1GP ) begins construction in mid-August with the first pedestrian bridge going up at the northern end of the circuit and preliminary work for Pit Buildings on Macintosh Island.
This schedule has been reduced each year although the infrastructure inventory has tripled from 1991, when it was 199 days (in 2007 its down to about 100). The circuit is defined using 2515 concrete blocks which each weigh approx four tonnes ( the majority of these are individually airbrushed with company logos, a truly back-breaking task ).
The 4.47km circuit uses 10km of heavy-duty debris fencing, 16km of security fencing, and 10 temporary bridges. Approximately 100km of cabling is required and 6000 man-hours of electrical reticulation.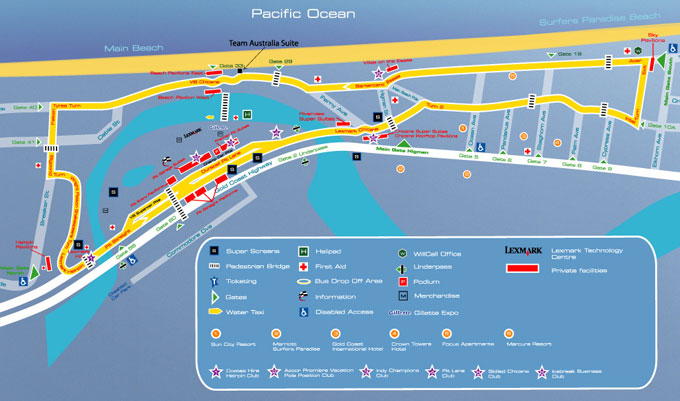 Spectators and Event participants spent $50.4 million at the 2005 Gold Coast Indy 300, with an estimated economic and tourism value of $58.3 million (AUD) in total benefiting the state of Queensland.

Large Scale Vinyl prints for Gold Coast Indy 300 2005 :
Gallery 2
\Sign Event \ Wizard Signs \ Logos \ Updated 23/06/05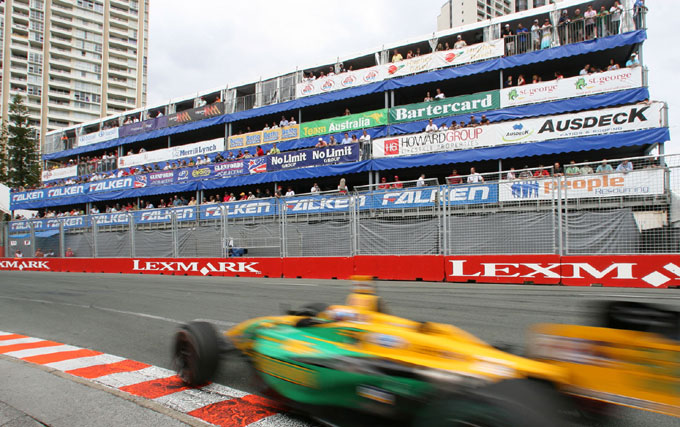 Approximately 13,500 grandstand seats are set up around the circuit.
There are roughly 420 temporary structures used for the Event. There are more than 140 corporate hospitality suites that can cater for groups of 10 to 280 people (all of these are labeled with large scale signs on display trackside, this took up the majority of my contract work ). More than 70 hard-wall portable buildings are used for team and administration needs. Approximately 190 temporary buildings are used for facilities including the event Media Centre, Medical sites, Merchandise Sales and Emergency Services.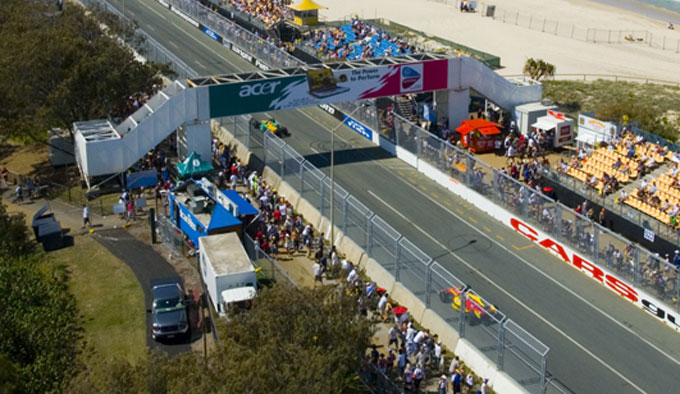 The 2005 attendance was the highest in the Event's 15-year history, attracting 316,459 people over the four day event.
Since its inception in 1991, the Event's annual daily corporate attendance has increased to more than 6000 in 2005 (more than 24,000 over the four days). More than 60 companies are contracted to supply a service at the Gold Coast Indy 300, with the total number of employees close to 1000. Major sponsors and supporters include the Queensland Government, Lexmark, XXXX Gold, Conrad Jupiters, Falken Tyres, Bartercard, VeryGC and Coca Cola. More than 270 national and international companies take up corporate hospitality packages at the event each year.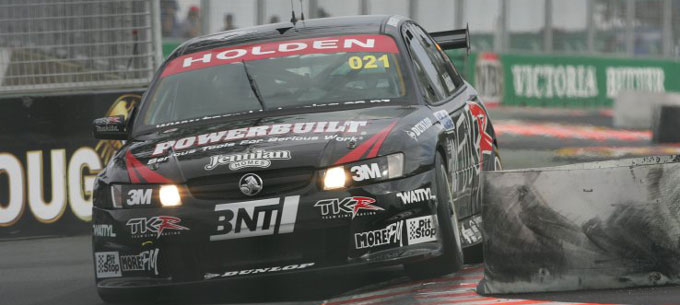 Artists Description and general comments.
Client:
Under contract - Sign Event for Gold coast Indy 500 2005 and Bathurst 1000 2005
Brief :
Composite and Print all onsite signage (600 - 700+ individual signs)
the largest being 60m+ in width.
Medium :
Digital Prints :
On banner material
composite in Adobe illustrator and printed using SOLJET pro IIV (sc-545ex print&cut) 2005 a.d
Recent updates may not appear in search query.