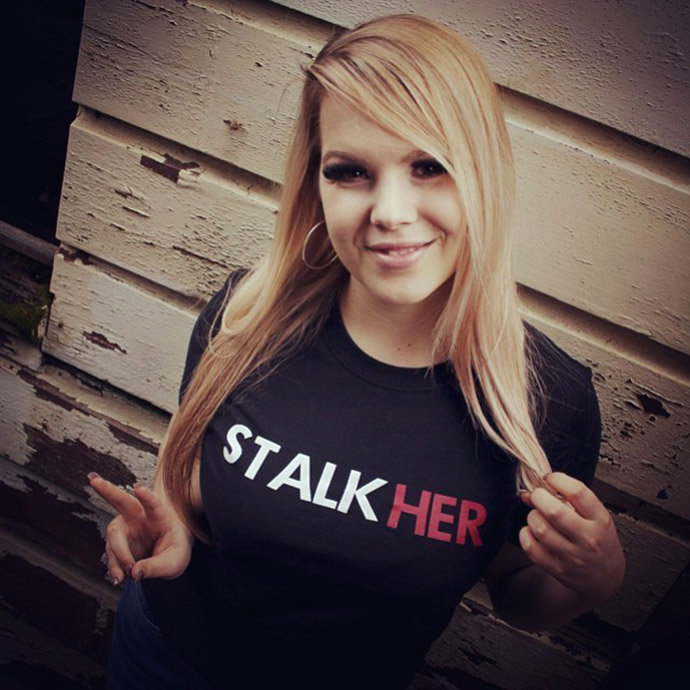 StalkHer (2015) - Comedy, Romance, Thriller: John Jarratt makes his directorial debut as well as starring in this feature film. Former Village Roadshow and Disney Australia Managing Director and now Chairman of the AFI Alan Finney is on board as the Executive Producer, who helped negotiate distribution deals. Written by Kris Maric. Also starring is leading lady Kaarin Fairfax (3 times AFI Nominee).

Stalkher Feature Film Promotional material :
Artists Description and general comments.
Collaborators : MEDiAKiN / G.A.P
Brief : Feature Film Title Art designed by ArkhªmHªus for STALKHER.
Medium : Digital : Created in Adobe Photoshop 2015 AD.
Notes : Film title design is a term describing the craft and design of motion picture title sequences. Since the beginning of the film form, it has been an essential part of any motion picture. In the beginning, main title design consisted of the movie studio's name and/or logo and the presentation of the main characters along with the actor's names, generally using that same artwork presented on title cards. Most independent or major studio had their own title art logo used as the background for their screen credits and they used it almost exclusively on every movie that they produced. Then, early in the 1930s, the more progressive motion picture studios started to change their approach in presenting their screen credits. The major studios took on the challenge of improving the way they introduced their movies. They made the decision to present a more complete list of credits to go with a higher quality of artwork to be used in their screen credits. A main title designer is the designer of the movie title. The manner in which title of a movie is displayed on screen is widely considered an art form.
Vector graphics is the use of geometrical primitives such as points, lines, curves, and shapes or polygons—all of which are based on mathematical expressions—to represent images in computer graphics. Vector graphics are based on vectors (also called paths), which lead through locations called control points or nodes. Each of these points has a definite position on the x and y axes of the work plane and determines the direction of the path; further, each path may be assigned a stroke color, shape, thickness, and fill. These properties don't increase the size of vector graphics files in a substantial manner, as all information resides in the document's structure, which describes solely how the vector should be drawn.[citation needed] Vector graphics can be magnified infinitely without loss of quality, while pixel-based graphics cannot. The term vector graphics is typically used only for 2D (planar) graphics objects, in order to distinguish them from 2D raster graphics, which are also very common.
Recent updates may not appear in search query.