El Sueño de la Razon Produce Monstruos.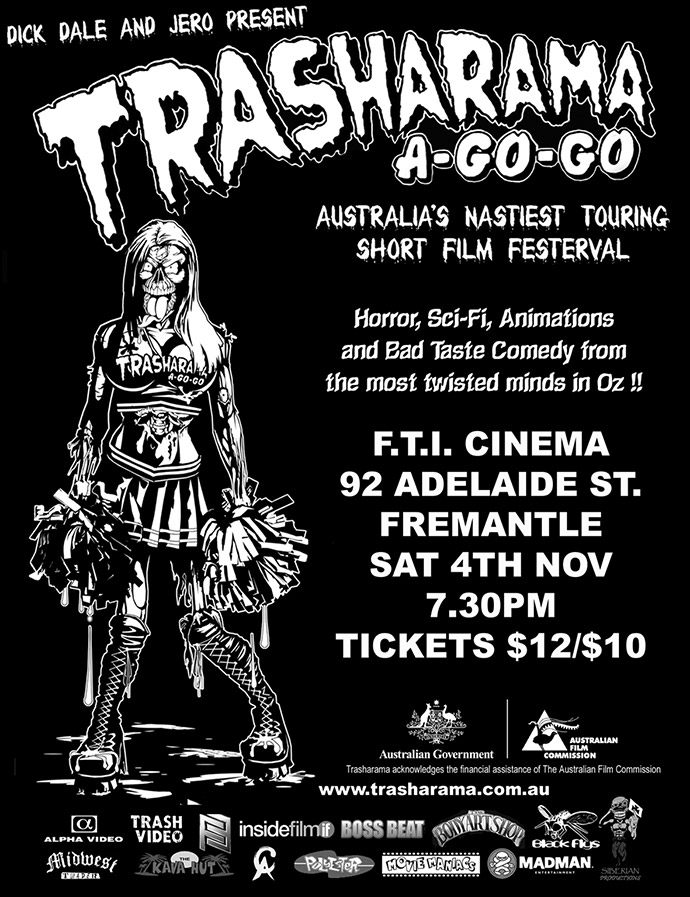 Artists Description and general comments.
Client : Trasharama A-go-go Annual Film Festival.
Brief : Update, enhance and add characters to existing promotional artwork. An understanding of horror movies was a must. Plus the client requested a variation of my White Werewolf creature artwork.
Medium : Pen Sketchs : 1. ( Digital composition) 20cm by 28cm 1200 dpi
Sindee the Zombie Cheerleader (with pompoms) created in Adobe Photoshop 2006 a.d. Character displayed in promotional flyers, festival websites, badges and T-shirts (pictured right). The Single Colour T-shirt design has been resurrected for the 2013-14 Trash Festivals.
Design notes : When I was first introduced to the character I just assumed she was a cheerleader (prob. the blonde pigtails), hence the outfit in the second design. I like her FuckMe boots (repetitive to draw, worth it in the end). To allow for text to image constraints a half length version was designed as well (see linked page here).
Soundtrack (music to draw to) : Riz Ortolani - Cannibal Holocaust Film Score
All names, characters, images and logos within the boundaries of this site are protected by copyright, and other intellectual property laws. All rights in relation to the products and creations identified within this website are owned by Anthony Marriott (Arkhamhaus Images) or the party designated as the owner of the rights. This site is © 1998-2017 Anthony Marriott. All Rights Reserved. There is no system of registration for copyright protection in Australia. Copyright protection does not depend upon publication, a copyright notice, or any other procedure. Copyright protection is free and automatic. While the copyright notice is not required for protection in Australia and in most other countries, it does notify people that the work is protected and identifies the person claiming the rights. In Australia, copyright law is contained in the Copyright Act 1968 (Cth) and decisions of courts. As a result of international treaties such as the Berne Convention, most foreign copyright owners are protected in Australia, and Australian copyright owners are protected in most other countries.