Bad Behaviour
U.S. VOD Banner Art:
John Jarratt as Ricky Bartlett, Lindsay Farris as Peterson
Bad Behaviour
\ Australian Cinema \Banner Art \ Ozplotation \ Black Comedy \ Neo Noir \
Artists Description and general comments.
Client : MEDiAKiN / Sterling Cinema Pty Ltd / Global Alliance Productions / Caldwell Entertainment
Brief : Provide Poster Art and banners for the film "Bad Behaviour." Imagery provided will be added to AllRovi.com, as well as to Rovi's interactive and electronic program guides. The artwork will also serve to highlight the film on third-party platforms that receive Rovi's data, such as Comcast and Samsung.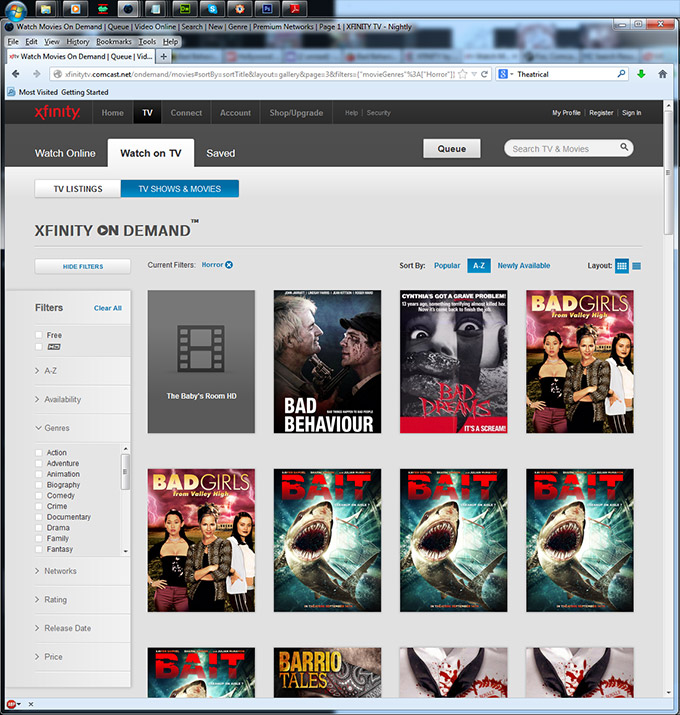 Medium : Digital : Official banner versions for the release of Bad Behaviour. These banners promote the Aussie 'Serial Killer Thriller', featuring John Jarratt as Senior Constable Richard 'Ricky' Bartlett staring down Lindsay Farris' eloquently evil Peterson. Created in Adobe Photoshop 2013 a.d
Design Notes : BAD BEHAVIOUR was written and directed by Joseph Sims and produced by Kris Maric, Steven Caldwell and Craig A Kocinski. This Queensland independent film went on to win 6 awards at the 2011 Melbourne Underground Film Festival and delivered its international premiere to packed out audiences at Cinequest, a North American film festival in California. BAD BEHAVIOUR was picked up by Ken DuBow's Opus Distribution and had its first market screening in May 2011 at the Cannes Film Market where Dubow announced he closed a deal for BAD BEHAVIOUR with Donau Films in Germany. John Jarratt has recently been in the US filming Quentin Tarantino's DJANGO UNCHAINED alongside Leonardo DiCaprio, Jamie Foxx and Christoph Waltz. Before filming Bad Behaviour, John had appeared in ROGUE, a film loosely based on a 1970's era croc of enourmous named Sweetheart (being director Greg McLean's ode to Australia's Northern Territory tourist bureau and big budget feature follow-up to John's most recognized role in the 2005 inde horror flick WOLF CREEK). Previously he featured in THE FINAL WINTER; an Australian production about the seedy side of footy and had a role in AUSTRALIA, Baz Luhrmann's epic type feature thingy starring Nicole Kidman and Hugh Jackman dousing himself with a bucket of water. A veteran of thirty years in the industry, John's credits include Peter Weir's eerie classic PICNIC AT HANGING ROCK, SUMMER CITY, THE ODD ANGRY SHOT, WE OF THE NEVER NEVER, NEXT OF KIN, DARK AGES and ALL MEN ARE LIARS which earned him a Best Actor nomination at the AFI awards. His Television credits are numerous, from his Logie award-winning performance as Ned Kelly in THE LAST OUTLAW, to other leading roles in FIELDS OF FIRE trilogy for which he received an AFI nomination for Best Actor. Director Joseph Sims explains the effect that nabbing the renowned Aussie actor for a role in Bad Behaviour had upon his production. "I really didn't know where we stood in terms of financing and eventual size of the production until the day I heard John had signed on. Almost immediately after Dwaine [Stevenson] (Gabriel) signed on... With their names we were able to go nuts - we had access to a number of high profile people we wouldn't normally have had access to." The film also stars TV and radio personality Jean Kittson (Hating Allison Ashley) and Roger Ward (Mad Max).
The Bad Behaviour Poster also features Lindsay Farris as the film's primary socipath: Peterson. Lindsay is in parts Actor, Author, Musician and Entrepreneur, his theatre credits include The Titular Hamlet (Nida Yas), The Little Dog Laughed (Ensemble Theatre), Inside Out (Cdp), The Keeper (Micah Projects), Blowing Whistles (Focus Theatre/b#), Emergence (Synarcade), One In A Hundred (The Street Theatre), I'm Not Rappaport (Ensemble Theatre), Seven Little Australians (New Theatre), Love Of The Nightingale (Nida), Hello Dolly (The Production Company) and a national tour with Brainstorm Productions. Farris has appeared in lead roles In the feature films Twists Of Fate and Primal (a groovy horror tale), while his aussie television credits include Sea Patrol, All Saints, Blue Water High, Marking Time And The Sleepover Club. His Short Films Include The Ground Beneath and Splintered which both received much acclaim internationally including a number of best actor awards, best film at the slamdance film festival in 2005 and both films were contenders for the 2006 and 2010 academy awards. Lindsay is artistic director of the National Youth Ttheatre Company and executive director of the Australian Ministry of Theatre, a company dedicated to the development of cultural initiatives for the sustainability of theatre practitioners and audiences.

Bad Behaviour Credits: A Sterling Cinema presentation in association with MediaKin, Caldwell Entertainment and Global Alliance Prods. (International sales: Opus Distribution, Los Angeles.) Produced by Kris Maric, Steven Caldwell, Craig A. Kocinski. Executive producer, Joseph Sims. Directed, written by Joseph Sims.
With: John Jarratt, Lindsay Farris, Dwaine Stevenson, Robert Coleby, Georgina Symes, Roger Ward, Jean Kittson, Caroline Levien, Ellen Grimshaw, Dominique De Marco, Rio Holland, L.J. Sims, Nic Mohr, Tyson Hargreaves, 'Aussie' Joe Bugner, Jean-Marc Manning, Dwaine Stevenson, Jean Kittson.Camera (color, HD), Justin Cerato; editor, Steven Caldwell; music, Luke McDonald; production designer, Shaun McIntosh; art director, Anthony Marriott; costume designer, Melody Cooper; sound, Robert Hughes; sound designers, David Gaylard, Ashton Ward; re-recording mixer, Phil Hagstrom; assistant director, Marieke Spence.
Recent updates may not appear in search query.