Freaks, Monstrosities, Curiosities, Mongrels and Anachronisms...
Trasharama Agogo / Daddow skateboards :
Spine Grrl Entelechis Edition
ZombieTown
\

Undead Abominations

\

Night-Sight

|

Updated 19/07/11
Artists Description and general comments.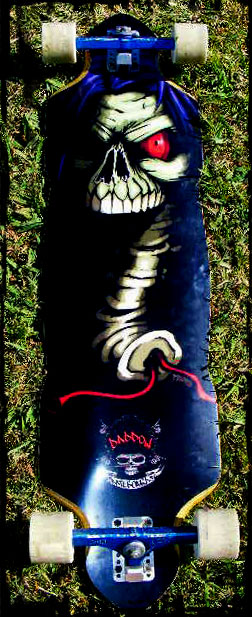 Client :
Daddow Skateboards/ Trasharama A-go-go Annual short Film Festival.




Brief :


Adapt and Create Comicbook Style Skateboard Art in conjunction with the 2011 Trasharama Festerval and Daddow Skateboards for cross-promotional sales.
Medium :
Digital illustration (
Wacom Tablet
) :Spine-Grrl was created in Adobe Photoshop 2008 a.d. The Character is displayed in promotional flyers, on the trasharama website and sold as badges, stubby holders, T-shirts and now Skateboards.
Design notes :
Regarding the Skateboards themselves:
Daddow Entelechis Top Mount, Designed by some of Qld's best groms! This board is 926 mm long by 265 mm wide and a wheel base of 730 mm to 750 mm. The nose and tail are raised about 8mm above the platform. There is a slight W cave only thru the middle of the slight camber. 6 layers of Australian Silver ask veneers sandwiched between 2 layers of bamboo veneers.

Trasharama (Best of) 2011 Tour Dates :
Friday 18th November @ the Tribal Theatre-- 364 George St Brisbane.
Recent updates may not appear in search query.